Lancia Appia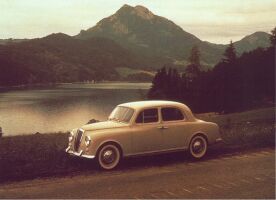 The replacement for the Ardea, the Appia was launched in 1953. A four door (pillarless) design with a new V4 (approx 10deg) engine of 1090cc and producing 38bhp, the Appia retained the standard Lancia sliding pillar suspension at the front and had a live axle with leaf springs and telescopic dampers at the rear.
In 1956 the second series was introduced. This had a noticeably different external style, with a more pronounced boot and more vertical rear window. The wheelbase was also extended by 30mm and the power was increased to 43bhp. Inside, the individual front seats were replaced by a single bench seat.
The third series was released in 1959 and again incorporated a different exterior, this time focussing around a new front end. The traditional shield shaped grille had gone and was replaced by a new horizontal grille and lower bonnet line. The engine also increased in power again, up to 48bhp.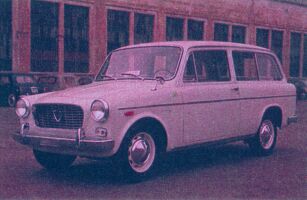 Three other variants were also produced by Lancia, the furgoncino, a small van, the camioncino, a pick-up truck and the autolettiga, an ambulance.
Several coupés were built by Zagato on the basis of the Appia. The first was a one-off shown at the 1956 Turin Motorshow (and known as 'the camel') which also competed in the Mille Miglia the following year. Production models using the standard wheelbase were the GTZ (from 1957 with 53bhp) and the GTE (from 1958 with 60bhp) whilst the 'Sport' had a shorter wheelbase (2350mm, from 1961 with 60bhp). All three cars had different bodystyles and were built in small numbers (a few dozen GTZ's, 521 GTE's and 200 'Sport's).
Other variants of the Appia included a coupe by Pininfarina, a convertible by Vignale and a giardinetta (or estate) by Viotti.
Production of the Appia ceased in 1963.
---
Technical Details

Driveline
longitudinal V4 engine at the front with rear wheel drive
Suspension
front : Sliding pillar
rear : live axle with leaf springs and telescopic dampers
wheelbase : 2480mm (srsI); 2510mm (srs II and III)
front track : 1178mm (srs I and II); 1180mm (srs III)
rear track : 1182mm (all)
Brakes
hydraulic on all four wheels
handbrake operating on the rear
Gearbox
4 speed manual
Steering
Worm and sector
Kerb weight
series I : 820kg
series II : 900kg
series III : 920kg
---
Appia comment form
---
For books on Lancia see our Online Bookstore
There is also a list of all our picture galleries (including museums, motorshows and various events).
Wallpapers/Desktop Backgrounds of numerous Lancia's are available to download.
---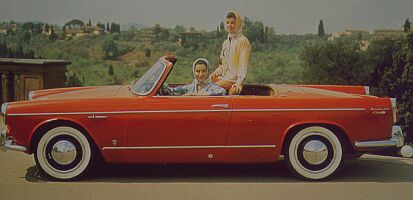 Use the buttons at the top to navigate further, or
---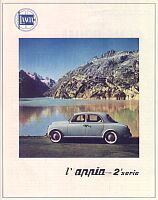 ---
Copyright © 2000 to 2008 CarsfromItaly