Lancia Gamma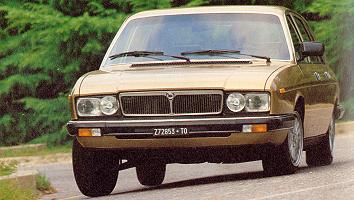 Initially started as a joint project with Citroen in 1970, this failed to work and the Gamma, as presented to the public at Geneva in 1976, was wholly Lancia. An all new flat four engine of 2484cc had been developed and the body styled by Pininfarina. The suspension was a modified version of that found on the Beta. The berlina, a two box design, was joined soon after launch by a coupe version, also styled by Pininfarina, based on a shortened wheelbase platform. For tax reasons a 1999cc version of the engine appeared shortly afterwards, offered in both body styles.
1980 saw a facelift as the Gamma adopted the new shield grille, various internal modifications to the trim and instrumentation and a fuel injected 2500 engine in both the coupe and berlina. Production continued until 1984 by which time some 15,272 berlina's and 6,789 coupe's had been built.
Pininfarina also built three prototypes based on the Coupe; one an estate (in the Beta HPE style), one a four door and one with a T-bar roof. All these can be seen on our Concept Cars page.
---
| | |
| --- | --- |
| | |
---
---
Technical Details

Driveline
longitudinal engine at front
front wheel drive
Suspension
front : MacPherson strut with telescopic dampers and coil springs plus anti-roll bar
rear : independent with telescopic dampers and coil springs, twin transverse links and anti-roll bar
wheelbase : 2670mm (berlina); 2555mm (Coupe)
front track : 1450mm
rear track : 1440mm
Brakes
front : discs, two piston callipers (piston diameters 42.9mm front and 34mm mixed circuits)
rear : discs, calliper piston diameter 36.1mm
handbrake operating on the rear via cable
dual hydraulic circuit with servo assistance
Gearbox
5 speed manual
4 speed automatic
clutch plate diameter 215mm (2000) and 229mm (2500)
Steering
Rack and pinion
Kerb weight
1320kg (Berlina); 1270kg (Coupe)
click here for a section through the Gamma engine

---
Links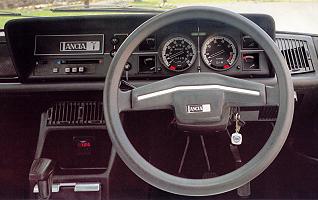 The UK Lancia Gamma Consortium website
A Lancia Gamma Coupe website


---
Gamma comment form
---
Your Comments
I never drove a more pleasing or personal car, than my 2500 typ I 1978 Coup., and I rejoice in the fact that the car in every sense seduced my better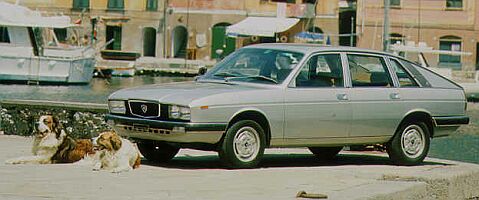 judgment, and made me buy it no matter what. I have no regrets..
Walking away from and approaching my car always puts a quiet smile on my face, because I know what it is. My car, the car with its very own personality..
The car was never meant for towndriving, but I have no complaints...and it has never let me down either.
Road: Torque and response is always most present, and the manners and balance is most reassuring at high speed..
Mechanics: It takes a ceratin breed of man..because the engine is strong but complex, and quite aggrevating to access, maintain and repair in the car.
My theory on the overheating problem on the Gamma engine, is the thermostat integrated in the waterpump, and I'm certain that it the cause for blocking circulation at low speed...in any case it is a limp construction, and I shall test my theory within short..when I rennovate my car, I will remove the thermostat and modify it with an external and cheaper version..
Though economy is not exemplary, I don't mind, because I'm still young (34) and don't worry about such things..I want to go first class, when I drive...and my gamma is all that...sporting or just cruising..
I salute my fellow Gamma drivers on their particular taste and choice... (Criz S., Denmark)
comfort ok, but Pininfarina was Painfully drunk when He made the project design ok the 4 doors... coupè very beautiful car.
---
For books on Lancia see our Online Bookstore
There is also a list of all our picture galleries (including museums, motorshows and various events).
Wallpapers/Desktop Backgrounds of numerous Lancia's are available to download.
See also our Lancia advertisements gallery, where several adverts can be seen.
---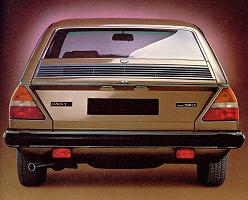 Use the buttons at the top to navigate further, or
---
Copyright © 2000 to 2008 CarsfromItaly