Fiat 600
Introduced at the Geneva Motorshow of 1955, the new Fiat 600 was part of the postwar Italian 'Economic Miracle' and helped mobilise the country, being produced in large numbers (for its time).
As released, the 600 was a two (suicide) door four seat car with a 633cc (21.5bhp) water cooled four cylinder engine located behind the rear seats and driving the rear wheels. It was the first rear-engined Fiat production car. Other notable features were the monocoque construction and the independent suspension on all four wheels.
One year after the introduction of the saloon, two more versions were introduced. Following with tradition, a version was released with a full length opening canvas roof. And then there was possibly the first true MPV, the Multipla. This had three rows of seats for a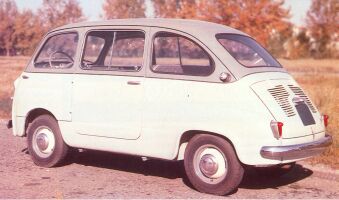 total of six people, the two rear rows of seats which could be folded into the floor, leaving a large flat loading area. The front suspension was derived from the 1100 whilst due to the increased weight the brakes, rear suspension and steering were all uprated. It was produced in three versions, a 4/5 seater, a full 6 seater and a taxi.
In 1960 the 600 range got its mid-life update when the 600D was released. Mechanically this got an increased capacity engine of 767cc (29bhp) whilst various changes were made to the bodywork (most noticeably, the front windows got openable quarterlights and the bootlid got modified cooling grilles). The Multipla adopted the same changes.
In 1964 further improvements saw the introduction of front hinged doors. In 1965, after over 2,000,000 cars had been built, another revision of the 600D, saw new headlights, a larger fuel tank, a new badge on the frille and replacement of the oil filter element with a centrifugal unit. Visually these cars had the chrome strip on the side deleted.
A total of 2,695,197 Fiat 600s were built in all versions.
---
For various 600 based cars made by other Italian manufacturers see the 'Other Marques' page (including the 'Lucciola' four door saloon by Francis Lombardi, cars by Moretti, Ghia and many more).
---
---
Technical Details

Driveline
longitudinal engine at rear with rear wheel drive
Engine
633cc (60x56mm) four cylinder in-line ohv with 22bhp @ 4,600rpm
767cc (62x63.5mm) four cylinder in-line ohv with 29bhp @ 4,800rpm
Suspension
front : Independent, single upper wishbone with telescopic damper and single transverse leaf spring
front : (Multipla) double wishbone with coil spring and telescopic damper plus anti-roll bar.
rear : independent with telescopic dampers and coil springs
wheelbase : 2000mm
front track : 1144mm (saloon), 1225mm (Multipla)
rear track : 1154mm (saloon), 1151mm (Multipla)
Brakes
front : drums, diameter : 185mm (saloon) & 220mm (Multipla)
rear : drums, diameters as front
handbrake operating on the rear via a cable
On early cars the handbrake operated on a drum on the end of the gearbox layshaft
Gearbox
4 speed manual
cable operated clutch
clutch plate diameter 155mm
Steering
Helical worm and sector (early saloons), worm and roller (600D and Multipla)
Dimensions
saloon, Multipla.
Kerb weight
600 : 585kg
600D : 605kg
| | |
| --- | --- |
| | |
---
---
Maintenance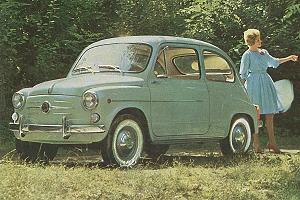 The following data refers to the 1973 600 & 600D models :
Scheduled maintenance :
Replace air filter : every 10 000km
Check tappet clearances : every 10 000km
Oil & filter change : every 10 000km or 12 months
recommended engine oil : for climates below -15°C SAE 10W, for those below 0°C SAE 20, for those above 0°C SAE 30 and for those above 30°C SAE40.
recommended transmission oil : SAE 90EP
engine oil capacity (sump & filter) : 3.0 litres
transmission oil capacity : 1.55 litres
Spark plugs : Champion L7, gap 0.6mm to 0.7mm
---
---
For books on the Fiat 600 see our Online Bookstore
There is also a list of all our picture galleries (including museums, motorshows and various events).
Wallpapers/Desktop Backgrounds of numerous Fiats also available to download.
---
Links
A Fiat 600 website
A page dedicated to a 1963 Allemano 600
---
600 comment form
---
Your Comments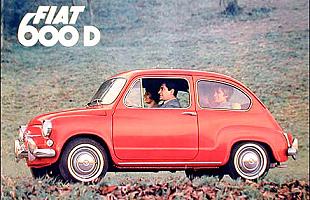 Oh my goodness, it's the cutest car I've ever seen and I must say it is love at first sight...! I've never even felt this way about the opposite sex and everyone thinks I'm nuts to buy and restore the car. Give me 2 years and I'll make them swallow their words..... (Pamela, Malaysia)
I fell for this car when I was like around 7 years old and it has always been my dream to own one.I paid 900 bucks and my dream came true,quite a bad one but hey,I'm a mechanic so no problem with the mechanical bits. Currently it is undergoing some body repairs but I'll be driving it around soon although it needs a facelift but who cares!BY 2943 is its reg. no.,so if you see it around give me a peace sign, alright? (Benjamin T, Malaysia)
I've owned several of these little beauties. My favourite one was a 1958 model with Fiat 850 engine modification (bored out to nearly 1000cc!). It was a wolf in sheeps clothing. It looked innocent enough, but when the traffic light turned green... (Nick, Australia)
---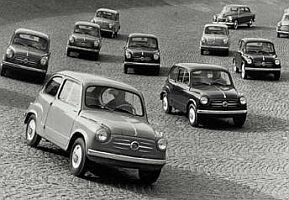 Use the buttons at the top to navigate further, or
---
Copyright © 2000 to 2008 CarsfromItaly