Fiat Panda
In February 1980 FIAT presented a new 'utility' car, designed by Giugiaro and named the Panda. Fitted with either a two cylinder air-cooled 652cc engine (derived from that in the 126) - the Panda 30, or a four cylinder water cooled engine displacing 903cc (from the 127) - the Panda 45, it was conceived and built to be economical to buy and to run, with practicality high on the list of priorities. Designed to fit between the 126 and 127 in terms of product, it featured several innovative items such as the 7-position adjustable rear seat, removable and washable seat covers, door trims and dashboard cover and the fact that all the glass surfaces were flat.
The two original engines were added to in September 1982 when the Panda 34 was revealed, this using an 843cc water-cooled unit derived from that in the 850.
At the Paris Motorshow later in 1982 the Panda 45 Super was revealed. This had numerous improvements, most significant being the availability of a five speed gearbox as well as trim and minor styling changes. The new black plastic 'corporate' grille (actually the first production use of this grille with the five diagonal silver bars) distinguished it from the earlier models with the 'metal with slots' grilles. A 30 Super was added to the range in February 1983.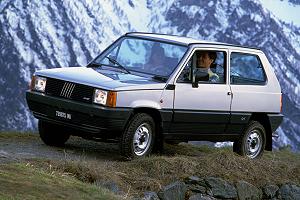 The Austrian company, Steyr-Puch, developed a four wheel drive system for the next addition to the range, the Panda 4x4. Launched in June 1983, it was powered by a 965cc engine with 48bhp derived from that in the Autobianchi A112. Known simply as the Panda 4x4, this model was the first small, transverse-engined production car to have a 4WD system. The system itself was manually selectable, with an ultra-low first gear. Under normal conditions starting was from second, with the fifth having the same ratio as fourth in the normal Panda. Steyr-Puch supplied the entire drivetrain (clutch, gearbox, power take-off, three-piece propshaft, rear axle inc diff and brakes) to the plant at Termini Imerese where it was fitted to the reinforced bodyshell. With a weight of 740kg it completed the standing km in 38.8 seconds and went on to a top speed of 84mph.
Meeting with great success, the 1,000,000th Panda produced in July 1984, by the end of 1985 1,400,000 Panda (of all versions) had been built.
Minor revisions in November 1984 saw the range renamed "L", "CL" and "S" together with some detail modifications including the adoption of the new corporate grille, with the five diagonal bars, by all the versions.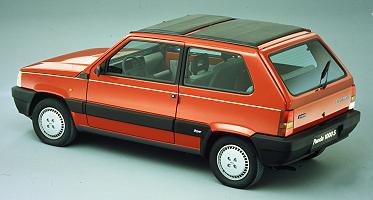 Major changes to the Panda arrived in January 1986. The 650cc engine was replaced by a 769cc (34bhp) unit, and the 903cc by a 999cc (45bhp or 50bhp in the 4x4) item. Both the new engines were from the new FIRE family of 4 cylinder water-cooled powerplants with a single overhead camshaft. Out with the old was the message for the rear suspension too, with the rear leaf springs being replaced by an independent system using a rigid rear axle (known as the 'Omega' axle) with a central mounting and coil springs (the 4x4 continued to use two longitudinal leaf springs). Improvements were also made to the interior and the structure, which was strengthened. The full range became 750L, 750CL, 750S, 1000S and 4x4.
April of that same year saw the introduction of a 1301cc diesel engine with 37bhp (a detuned 127/Uno unit). Fitted as standard with a five speed gearbox it was only available in the basic 'L' trim. The van version of the Panda was also introduced in the same month, with both petrol and diesel engines. This had the rear windows blanked off and a small (always black) plastic extension attached to the rear
The following year, 1987, saw the arrival of the Panda Young with a 769cc ohv engine which used the old 903cc block and produced the same 34bhp as the FIRE unit. The 999cc FIRE also got single-point fuel injection and a catalytic converter in that year, and the Panda 4x4 Sisley limited edition was released.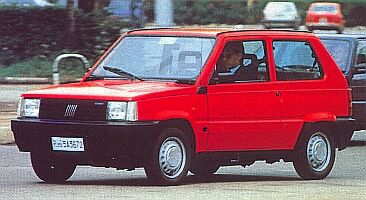 In August 1988 the 2,000,000th Panda came off the production line and in the following year the pushrod 903cc engine was re-introduced for export and some limited editions.
The two-seat Panda Elettra, introduced in 1990, was an early player in the environmentally-friendly electric car stakes. The batteries occupied all the space behind the front seats plus some under the bonnet where the 18bhp DC motor was also fitted, driving through the normal clutch and gearbox. The weight increased significantly, to 1150kg, necessitating stiffer suspension and uprated brakes. In 1992 the power went up to 23.8bhp and the weight dropped slightly.
The next major facelift came in 1991 with a redesign (most visibly a new front grille) and revision of the range. New arrivals included the 'Selecta', which had an electronic CVT (electromagnetic clutch plus CVT transmission). This advanced transmission was available either with the normal 999cc FIRE engine, but also an all new 1108cc FIRE unit, fitted with electronic fuel injection and a three-way catalytic converter and producing 51bhp. The new CLX trim also featured a five-speed gearbox as standard. The range now comprised the 750 Young (769cc ohv), 750 and 750 CLX (both 769cc FIRE sohc), 900 Dance (903cc ohv), 1000 Shopping,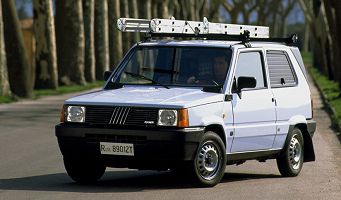 CLX, CL Selecta and S (all with 999cc sohc, available with or without SPI and catalytic converter), 1100 CL Selecta (1108cc sohc with SPI and cat) and the 4x4 Trekking (999cc available both with and without a cat). The Elettra finished off the offer.
In the next year, the 1108cc engine, complete with SPI and catalyst, replaced the 1000 unit in the 4x4 (with 50bhp) and also in 1992 an 899cc (with injection and catalyst) became available, in the 'Cafe' special edition. This was a reduced capacity 903cc unit, designed to meet tax requirements in some markets.
1994 was the next date for a revision to the venerable Panda. Due to legal requirements for a catalytic converter, the 769cc engine was discontinued, all the versions with the 903cc unit got the reduced 899cc (with 39bhp) and both that unit and the 1108cc unit were fitted with injection and a catalyst across the range. The 999cc Selecta was dropped, whilst another 4x4 special edition, the Country Club replaced the old Sisley. The engine in the 4x4 gained 4bhp (taking it to 54bhp) in the following year.
---
Technical Details


Driveline
longitudinal engine at front with front wheel drive or 4 wheel drive
Engines
652cc (77x70mm) two cylinder ohv air cooled with 30bhp @ 5,500rpm (126 derived)
843cc (65x63.5mm) four cylinder ohv with 34bhp @ 5,800rpm (850 derived)
903cc (65x68mm) four cylinder ohv with 45bhp @ 5,600rpm (127 derived)
965cc (67.2x68mm) four cylinder ohv with 48bhp @ 5,600rpm (A112 derived)
769cc (65x58mm) four cylinder sohc with 34bhp @ 5,250rpm (FIRE)
769cc (65x58mm) four cylinder ohv with 34bhp @ 5,250rpm (903 engine derivative)
999cc (70x64.9mm) four cylinder sohc with 45bhp @ 5,000rpm (FIRE) (50bhp in the 4x4)
1108cc (70x72mm) four cylinder sohc with 50bhp @ 5,250rpm (FIRE) (later with 54bhp in some versions)
899cc (65x67.7mm) four cylinder ohv with 39bhp @ 5,500rpm (903 engine derivative)
1301cc (76.1x71.5mm) four cylinder sohc diesel with 37bhp @ 4,000rpm (Uno/127 derived)
Suspension
front : MacPherson strut with telescopic dampers and coil springs plus anti-roll bar
rear : (early) tubular axle with telescopic dampers and leaf springs
rear : (late) independent system with 'Omega' axle and coil springs
wheelbase : 2160mm
front track : 1254mm
rear track : 1249mm (4x4 : 1258mm)
Brakes
front : discs, diameter 227mm
rear : drums, diameter 185mm
calliper piston diameter : 48mm (front)
cylinder bore diameter : 15.875mm (rear)
handbrake operating on the rear via cable
dual hydraulic circuit
Gearbox
4 and 5 speed manual
electronic CVT
rod linkage
cable operated clutch
disc diameter : 170mm
Steering
Rack and pinion
3.4 turns lock to lock
Kerb weight
'45' : 680kg
4x4 : 740kg
Dimensions
Panda 1000S and Panda 4x4.
click here for a cutaway view of a Panda 45

---
---
Performance

| | | | | |
| --- | --- | --- | --- | --- |
| model | max speed | standing km | 0-100 km/h | Braking (from 120km/h) |
| Panda 45 (1982) | 138 km/h | 37.4 km/h | 14.7 sec | 64.8 m |
| Panda 30 (1982) | 118 km/h | 43.3 km/h | 28.1 sec | 51.4 m |
---
Tuning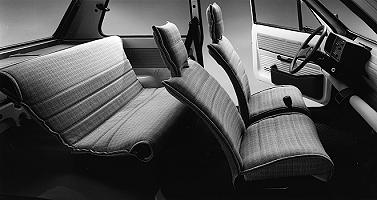 The Panda may not seem the most obvious choice of car to be tuned, but there are some modifications which will make it go, handle and stop better - thus increasing the safety whilst decreasing the time taken of journeys.
There are three main areas to concentrate on, the engine (and transmission), the brakes and the suspension and then various other details. These three should be done together since they complement each other, not all of one and none of another !
1. The engine.
Before modifying the engine it is worthwhile filling it with a good quality synthetic oil and fitting new spark plugs. An engine oil additive may also be used.
The first improvements are relatively simple. The air filter can be replaced for an aftermarket item which will help the engine breathe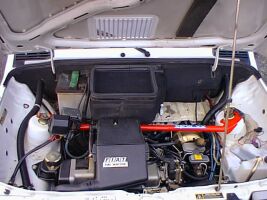 more freely and the exhaust can be replaced for one which will restrict the exit of the gases less.
The main modification (outside of taking the engine apart) is to fit a better carburettor. A camshaft will also provide a noticeable gain, especially if fitted in conjuction with the carburettor.
Other things to do should include fitting a cold air intake, a large diameter pipe (minimum 5cm) to provide air from outside the engine bay to the air filter. The exhaust manifold can also be lagged with thermal cloth or tape to keep the exhaust gases hotter (and thus reduce back pressure) and also to keep the underbonnet (and hence intake and fuel) temperatures lower.
The high tension leads can also be replaced with performance ones.
Further modifications require the machining of the cylinder headand/or cylinder block (which will not be dealt with here since it is not normally a DIY job) after which it may be worth fitting an oil cooler. If overheating is a problem due to the increased power output then a small hole can also be drilled through the plate in the thermostat.
Regarding the transmission the main requirement is to uprate the clutch to handle the increase in power and torque achieved though the engine modifications. Friction plates can be purchased with improved materials and heavier duty pressure plates are also available. Whilst doing this it is worthwhile lightening the flywheel.
2. The brakes.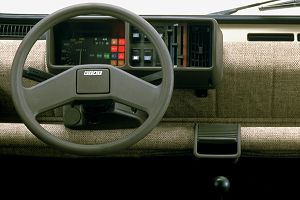 Initially it is relatively easy to replace the brake discs with drilled and grooved items, and the pads for a harder compound. The latter should not be too hard (ie no race pads on the road) or they will not function effectively at the normal 'road' operating temperatures. Stainless steel braided flexible hoses will improve the pedal feel and reduce the chance of damage whilst DoT5 fluid (not silicon) will increase the temperature at which it can operate effectively. If the brakes are getting too hot the dustguards can be removed and/or ducts fitted, taking air from behind the front bumper.
If more serious braking is required the next modification would be to increase the disc size. It is possible to use larger discs with a bracket allowing use of the production callipers, or alloy four pot callipers can be fitted but the weight of the Panda is unlikely to ever justify this.
In order to improve the balance of the car under braking it is desireable to be able to adjust the balance of braking from front to rear (and vice versa). This can be accomplished by fitting a bias valve in the line to the rear brakes, usually in a position so that it can be reached from the drivers seat.
3. The suspension.
The easiest improvement,and the one which will probably bring the single most noticeable change, is to replace the dampers and springs. At the front, everything can be replaced, at the rear the suspension can be lowered by clamping the leaf springs. Top adjustable dampers are compromised, but are good for road and track day cars since it allows the suspension to be adjusted between these two, rather different,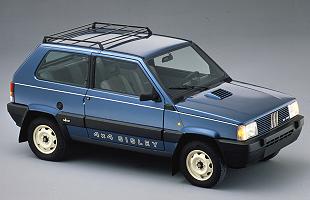 requirements. Coil over units add more adjustability and can be purchased outright, or can be made from standard dampers by welding a threaded sleeve to the standard tube.
There are then two other main suspension aims; to reduce the flexiblity in the suspension and to increase the stiffness of the car, both of which aim at more accurate control of the wheel movement. To reduce the flexibility it is possible to fit nylon bushes instead of the normal production rubber items, or if perfection is desired the suspension can be fitted with metallic bearings (rose joints / rod ends). Spherical bearing top mounts can also be used. To stiffen the car it is most popular to fit strut braces. These can be fitted to the front and rear. For more extreme cases a rollcage can be fitted.....
Into this category also fall the choice of wheels and tyres. With an increase in power it can be necessary to fit larger tyres (thus requiring larger wheels) but the temptation to fit the biggest possible should be resisted. Consideration should be given to fitting a wider tyre on the front (since they provide traction and steering) but keeping the standard, or a wider but not as wide as the front, tyre at the rear. This will improve the balance of the car.
4. other things.
Other modifications worth considering include fitment of a shift light (and rev limiter if there is not one as standard), higher power bulbs in the headlights (if you are going to go faster you need to see further) and installation of a quicker steering rack.
Haynes produce a good quality workshop manual for the Panda - buy it at our online bookshop (in association with Amazon).
---
Maintenance
The following data refers to the 1991 Panda :
Scheduled maintenance :
Replace air filter : every 20 000km
Check valve clearances : 20 000km, 60 000km and then every 40 000km
Check points gap : every 20 000km (for Marelli distributor reuired gap is 0.42mm to 0.48mm)
Replace spark plugs : every 20 000km (required gap is 0.7mm to 0.8mm)
Replace fuel filter (petrol & diesel) : every 20 000km
Replace timing belt (FIRE & diesel) : every 100 000km
Engine oil change : every 20 000km or 12 months (diesel : every 7 500km or 12 months)
recommended engine oil : SAE 15W/40 semisynthetic multigrade oil exceeding API-SG and CCMC-G4 specifications.
recommended transmission oil : SAE 80W/90 non-EP
tyre inflation pressures (front/rear) : 2.0bar / 2.0 bar (for fully laden 2WD car use 2.2bar / 2.2bar)
---
Desktop wallpapers
Click on the correct screen resolution for you computer and the picture will open in the window. You can then right click and set as desktop.

---
Maintenance
The Panda is a relatively basic car, and as such is relatively uncomplicated with little to go wrong.
If you have just purchased a second hand car there are several components which are worthwhile changing - especially if it is (as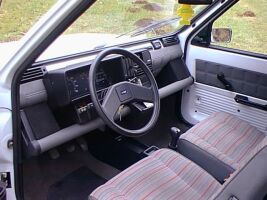 usual) a high mileage car with no known history.
As with any older second hand car the following should be changed for increased reliability, safety and general health :
Spark Plugs, oil, oil filter, air filter, brake fluid, windscreen wiper blade(s).
It is worth taking a bit of time after purchase to check the car well - it may save much annoyance later !
It is recommended to jack up each corner of the car in turn and check the wheel bearings, brake discs/drums, brake pads/shoes, flexible brake hoses, rubber suspension bushes and driveshaft CV joint gaiters.
Under the bonnet check the HT leads, distributor cap and rotor arm, engine earth lead, battery leads and the condition of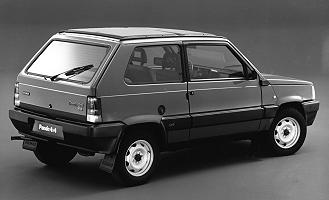 the fuel hoses. With older cars it is always worthwhile buying a can of fuel system cleaner and pouring it into the tank (or spraying it into the carburettor) - the internals of engines can easily clog up depending on prior useage. Slick 50 or a similar substance is also recommended for both increasing the (remaining) engine life and also reducing the noise, especially at tickover. Whilst there, the cooling system should be drained, generously flushed (chemicals can be purchased to assist this) and refilled with the required anti-freeze added.
Unless a history is provided, it is recommended to replace the timing belt and alternator/water pump belt since these items can fail and if they do the car will go nowhere ! Always use manufacturers belts, NOT aftermarket ones !
Other things to check (to prevent any unpleasant surprises when going somewhere) are exhaust mounting rubbers, the operation of all lights (don't forget to try the indicators with the sidelights on - they sometimes all blink together!) and the correct operation of the radiator cooling fan.
Haynes produce a good quality workshop manual for the Panda - buy it at our online bookshop (in association with Amazon).
---
Buying / Selling
Panda's are now quite(!) cheap, so it is an easy way to buy a good runaround. The best approach with such older, but not collectors, cars is often to buy cheap a runner, then spend a bit of money on it to improve it - see the maintenance section above.
Some tips to do before selling : (they may seem obvious, but most people don't do them and thus are in a weaker bargaining position).
Tidy inside the car thoroughly : hoover the floor, empty all pockets, ashtrays (wash), glove compartment etc..., wipe the trim with a damp cloth, give the cockpit a good airing to get rid of any odours ! Reset the trip meter to 00000 - it is a pleasant (subconcious)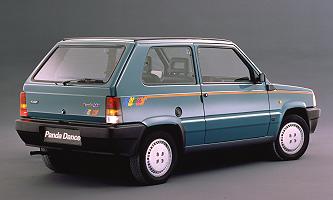 surprise.
If the car has been standing give it a good run - this will clear out the engine (reduce exhaust smoke), put a shine on the brake discs and loosen up any joints that may otherwise make some noises.
'Back to black' products are very effective at temporarily restoring bumpers and trim. This makes a big difference to any car. Do it a week before you expect people to view the car, otherwise it may be a bit too obvious !
Jetwash under the car, especially under the engine and in the wheelarches. The prospective buyer may be an enthusiast, and this makes it easier for them to see what they want to check.
Obviously wash the car and clean the windows !
If you are going to buy a car always check the following :
Firstly check the bodywork. Pay special attention to the wheelarches (inside if there is no plastic splash guard), suspension and engine mounts, sill, door pillars (check for sagging doors), scuttle panel and the floor (doors, bonnet and boot/hatch are also susceptible, but are more easily replaced). If a sunroof is fitted check around the edge for signs of rust. Check that there are no mismatching panels, large areas of discolouration or signs of fresh paint.
Check for a damp carpet or the presence of mould - if the carpet is damp then the floor is almost certainly corroded.
Check the main electrical functions - wipers, lights, etc... try putting the main beam and wipers on at the same time. Check the headlight reflectors for rust.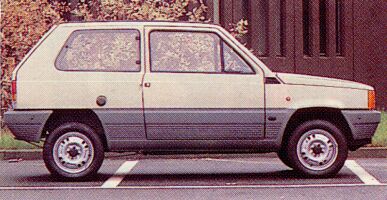 Check the brake pedal does not go to the floor if pressed hard for a long time and check the gearchange for clean engagement.
The engine should be run up to temperature, check the exhaust for smoke, the condition of the breather (look for mayonaise), the condition of the oil filler cap (again white deposits in a Panda probably indicate a life of short journeys where the engine has never got really hot and which results in accelerated wear) and the colour of the coolant (preferably not brown!). Listen to the noise of the engine, then depress the clutch and engage first gear. Whatever noise has disappeared was coming form the gearbox, what remains is from the engine. Check the colour of the oil using the dipstick, a golden-brown is best, dark is ok, but avoid engines with thick black oil.
Check tyre wear, uneven patterns could imply a bent chassis.
Always take it for a test drive. Check that the car tracks in a straight line with no steering input. Find a large open area and complete several lock to lock turns (also in reverse), listening for any noises. Try the handbrake when moving - seized rear callipers will mean uneven braking or no braking.
Generally, the Panda is mechanically pretty good, but until the mid 1980's the bodywork was weak.
---
Fiat Panda Workshop Manual : buy it online here (in association with Amazon)

For more books on Fiats, see our Online Bookstore
---
There is also a list of all our picture galleries (including museums, motorshows and various events).
Wallpapers/Desktop Backgrounds of numerous Fiats also available to download.
Screensavers of Fiats, including the Panda, available to download (free).
---
Links
A personal Fiat Panda website

---
Panda comment form
---
Your Comments
Just want to say what a great little car the Panda is. Mine is called peggy, she's a 1985 45 Super, I'm only her second owner and she's only done 34,000 miles. 15,000 put on by me with no trouble at all. Anyone else feel the same about Panda's ?
I just bought a Panda recently. It,s from '91 and it cost about $ 1000. The only improvement I made was install a c.d. player and two loudspeakers in the back. The previous owner had speakers up front but that takes up too much space. Apart from some noises here and there on a bumpy road I'm very satisfied with it.
I've recently bought a 10 year old Panda dance. In 16 years of driving it is the most fun car I've had. (I also own an 18 month old Fiat Punto). The Panda is so cheap, economical, nippy, and can be parked anywhere. Mine has 55,000 genuine miles on the clock, 10 months m.o.t, & cost me £150. Reliable, fun motoring at a very cheap price. I'd recommend a Panda to anyone.
I Live in Rome Italy and own A Panda 750. I love it. I modified it a bit and damn it rocks. Expecially on dirt roads it makes my friends punto eat the dust.
I drove a Panda for the first time this week, a 750 model, it was great, I understand why Fiat is still making this car after 20 years, it is just too good!!! (Patrizio, Italy)
I bought a Panda 900 in 1997 for replacing my wife's Uno and I'm fully satisfied with it. Sometimes I enjoy more driving the Panda rather than my comfortable Brava; Panda is a myth and I'm glad to own one! (Riccardo, Italy)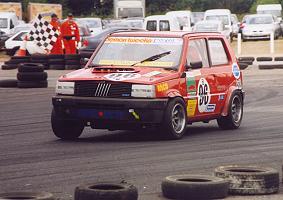 I have 2 Pandas, a twin-sunroof 1987 1000S and a 1995 1000CLX. I'd recommend them to anybody as a low-budget fun car, easy to maintain, surprisingly good handling (on 155 section tyres - 135's are a bit TOO narrow!), and very cheap to run. Watch out for split inboard driveshaft gaiters, though - they're death to gearboxes when the oil escapes. Much prefer the later car's servo brakes, as the pedal effort required is more consistent with the car's other controls. (Chris, UK)
Just bought a brand new Panda "Young" 1,1l yesterday for the incredible sales-price of 4.950 ? here in Germany. Yes, they still make them and they are even more fun to drive with the modern Seicento-engine. I feel that I am driving a living legend here. The car blends in perfectly with all the other cars on the curbside, yet the Giurgario-drawn lines are not taunted, even after 21 years of production-time. (Stefan T, Germany)
We have just bought a panda sisley 4x4(1990) we paid £350 for it and we are very happy, A great little car!
My Panda is a '92 1000 CLX with almost 100000km on the clock..But it runs like a new car. It´s top speed is 150 km/h!!!!! I´m very happy with it.(Erickson, Portugal)
I bought a 1986 Panda 1000CL with 80245miles for £100 in February 01. Now in Aug 01, I have put 11000 miles on it and I have only had to spend a further £125. It rattles, and the electrics are a bit unreliable, but it is a useful and reliable car - I love it!! (Aidan, UK)
This year we put together a Panda from four 88 pandas, meaning now I have a metallic red Cl super solar (quite a mouthfull)....with some bits from a four wheel drive. It only cost about £200Uk in all but its great, its very quick for a 1000 engine, and is way faster than my friend's 1.1 ford fiesta. I can get about 90mph and a 0-60 of a little under 14 seconds. I also find it has very predictable handling. A gas-flowed and skimmed head is going on it soon, so that should make it even swifter. (John)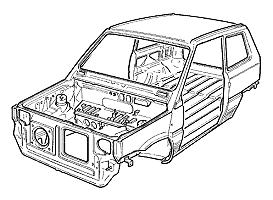 I've had all kinds of cars,but the panda is the best value for money,it is very underated,I like my panda but I am planing to get a 4x4 panda in the future!
I have owned 10 different Pandas since 1983. They have all been hassle free and I would recommend them to anyone. They are an excellent all round car. I make regular runs to Europe with my whole family loaded inside and they don't find it uncomfortable. (Andy, UK)
Owned my Pada Selectra (Yep an Auto) exactly three years. In that time I've covered 52,000 miles, its a 95 model (last of in UK) which now has 98000+ miles on the clock. Only failed once at 68000 miles when the head gasket went. No other problems, cheap to run/insure and though parts could be cheaper ~£200 in parts a year for 20,000 miles motoring is hard to beat. (Calum, UK)
I have a Panda 1000s Fire and a Ford Fiesta Sport 1.4. The new and pretty Fiesta reaches 190 km/h but it drinks gasoline like mad. The panda reaches easily 150 kmh and the compsumption remains very very very (and i mean very) low. Im from spain and the speed limit is 120 km/h. When i get the drive permission i was dissaponited of having to drive that car, but soon i was amazed with the performance of this ugly and squared thing. When my friends looked at it for first time some of them compared it to a 50cc vespino, six months later they remain quiet when i say "follow me if you can", and they have an opel corsa, a rover200 and a peugeot 205. They can get me only in a highway, but police can get them too ! What i can said! , the Panda is cheap to maintain, fast and maneuverable, and u can drive 200 kms at 120 km/h with the engine at 60º, if someday fiat makes a revision of the panda with a little cuter design, it will be the car of my dreams.
I have owned Pandas and currently run a 1986 4x4 and a 1994 automatic. Plus I have a 750 Cabriolet to restore. I intend to go straight to Turin and buy one straight from the factory when my lottery number comes up. (Andy, UK)
I had an absolutely immaculate 1989 1000Super for around a year, but it came to the point where I had to move on to something larger. BUT I have now found myself with another one, a 1988 1000CL, only this time as a second car, I just couldn't resist buying another, paying just £200, with 74k on the clock, what a bargain!! I have recently fitted a bolt on air filter, a modified exhaust and some Uno Turbo alloys. Its now a right head turner, whether its just people turning their heads to laugh I dont know, but I love it, A perfect car to have a laugh with!! (Dave, UK)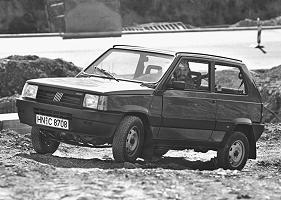 I bought a Panda Dance for £300, with 58k on the clock. It is my first car and I am in love with it, the interior is really colourful (rainbow seats - nice!) and nothing has gone wrong with it. Top speed on duel carriageway was 95mph - but don't tell anyone. All I need now is a CD player in it, then it will be a perfect car!
I persuaded both of my daughters to have Pandas as first cars, the latest a 1000 Super, initially for the fact that they have a low insurance group for young drivers. Although I normally drive more modern cars, I have grown to love Pandas and have had a great deal of pleasure in ocassionally driving them. You can read the reports that say how basic they are and how it is the next best thing to catching a bus but I think that it is great fun to drive, and it does need to be driven! It is quite nippy and can hold its own on the open road reasonably well with much flashier cars.
Reliability wise they have also been pretty good with only the expected failures like a clutch or water pump or starter motor packing up, which can go on any car. But the great thing about them is that they are are conventional cars, some might say old fashioned, you can understand how they work, you can repair them yourself and many of the parts can be picked up at breakers yards, although they are beginning to get a bit rarer these days. To be honest I have quite enjoyed keeping them on the road, which I wouldn't dare attempt to do with my own car.
I tried to get my son to get one recently and despite the arguments on economy, which don't cut much ice with young men, it just doesn't have the street cred for your average 19 year old boy racer! If there is anything bad to say about Pandas (and it could be a showstopper in more ways that one) it is the brakes, which are about the worst I have experienced in any car, but even then you can cope with it if you know what to expect and drive accordingly. But overall a great little car, good fun all round and cheap motoring. (John, UK)
---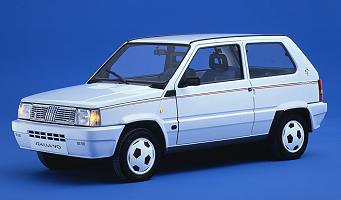 Use the buttons at the top to navigate further, or
---
Copyright © 2000 to 2008 CarsfromItaly