Lamborghini Countach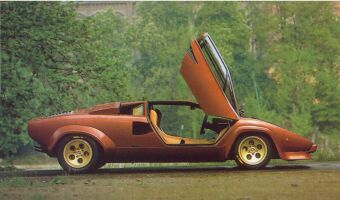 The next development of the Miura, the Countach was first shown to the public as a concept car at the Geneva Motorshow in 1971, called the LP500 (Longitudinale Posteriore 5-litre). The Miura chassis was largely retained, but the motor was turned through 90 degrees to be mounted longitudinally and the body was a radical new design by Gandini (still at Bertone). The engine was a 5-litre development of the Miura V12, with 440bhp. The gearbox was positioned in front of the engine with a drive shaft passing through the sump to the final drive which was at the rear.
Production of the definitive LP400 was not started until 1974, however, since again much development had to be done. The most significant changes were a change of engine size back to the Miura's 4-litres and repositioning of the radiators to improve the cooling. This latter change also necessiatated some extra vents which dictated some styling changes.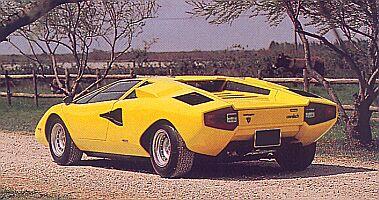 The resulting car used a tubular spaceframe chassis clad in thin aluminium panels. Special glass, the use of magnesium where possible and otherwise aluminium and some special competition components were all used to keep the weight down to a minimum possible.
In 1975 Pirelli introduced new tyres designed specifically for cars such as the Countach. The car was much modified to accept, and to make the most of, these tyres, with changes to the rear suspension, front and rear track, bodywork (wheelarch extensions) and brakes (still larger). The resulting Countach S was built in numbers from 1978.
The next development was to increase the size of the engine, to 4754cc and 400bhp for the 500S, introduced in 1981. In 1985 the engine grew again to 5.2-litres and got four valves per cylinder in the Quattrovalvole.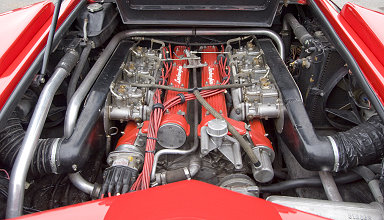 Production stopped in 1990 (volumes as below) when the Countach was replaced by the Diablo.
| | |
| --- | --- |
| Model | Number built |
| LP500 prototype | 1 |
| LP400 | 158 |
| LP400S | 237 |
| LP500S | 321 |
| LP500 Quattrovalvole | 672 |
| LP500 25th Anniversary | 660 |
---
---
Technical Details

Engine
LP400 & S : 3929cc (82x62mm) 60deg V12 with dohc (per bank) and 375bhp @ 8,000rpm
LP500S : 4754cc (85.8x69mm) with 400bhp @ 7,000rpm
QV : 5167cc (85.5x75mm) with 4 valves per cylinder and 455bhp @ 7,000rpm
Suspension
front : double wishbone and coil springs plus anti-roll bar
rear : double wishbone and twin coil springs plus anti-roll bar
wheelbase : 2443mm
track (front/rear) : 1500mm/1520mm (400S & 500S : 1490mm/1605mm)
Brakes
ventilated discs all round with servo assistance
mechanical handbrake operating on the rear wheels
Transmission
5 speed manual
Steering
rack-and-pinion
Kerb weight
LP400 : 1290kg
QV : 1440kg
---

---
See our picture gallery index for images from museums, motorshows and events.
---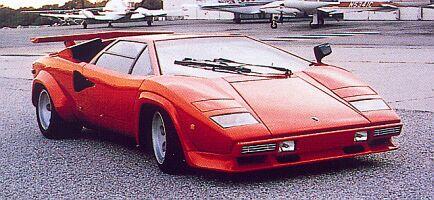 Return to the main Lamborghini page, use the buttons at the top to navigate further, or LM002
---