Autobianchi Bianchina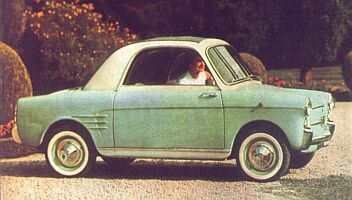 The first product of the newly born Autobianchi, the Bianchina was unveiled to the public in September 1957. It used the complete mechanical setup of the 500 clothed in a new body designed by Rapi, working for Fiat. The aim to position the new car above the 500 in the market was executed by having superior interior and exterior trim and details, such as the new dashboard, two-tone paintwork, whitewall tyres and large amounts of chrome, and was reflected in the higher price. The design was also considered by many to be more 'classy', and contemporary road-tests found the handling to be superior to the donor car. The engine remained the same 479cc unit two cylinder unit with 21bhp.
In 1959 the Special Trasformabile joined the standard Trasformabile in production, being distinguished by the use of the 500 Sport engine (25bhp), whilst in 1959 the second series entered production with a variety of detail changes.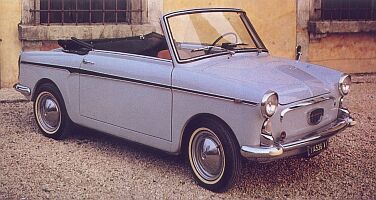 1960 saw the third series Trasformabile (and Special) enter production. This again featured numerous small design changes as well as a new 499cc engine, with an increase in output of 1hp. In that same year the Bianchina Cabriolet entered production, as did the Panoramica, or estate version. This latter adopted the engine from the 500 Giardiniera (horizontal two cylinder unit with 21,5bhp).
In 1961 the Furgoncino version joined the line-up, based on the Panoramica, whilst the Cabriolet second series started wth the engine from the 500 Sport. The last new version to appear was the Berlina Quattroposti which was also released in 1961. This small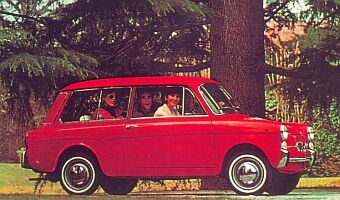 three-box design was also available in a Special version. The second series, again with numerous small modifications, appeared in 1965. Similar modifications were made to the cabriolet, whch resulted in he third series of that variant.
1967 saw the last changes to the range when the 'Lusso' model was released, and the Cabriolet was further updated. The Trasformabile ceased production in 1962, whilst the other versions continued on until 1969. Approximately 40,000 Trasformabile, 9,000 Cabriolet, 120,000 Berlina Quattroposti and 150,000 Panoramica and Furgoncino were produced.
---
Technical Details

Engine
479cc with 21bhp @ 6,200rpm (25bhp in Special & Cabriolet)
later 499,5cc with 22bhp.
Suspension
front : independent
rear : independent
wheelbase : 1840mm (Panoramica & Furgoncino : 1940mm)
track (front/rear) : 1121mm/1135mm
Transmission
4 speed manual
Empty weight
Trasformabile : 500kg
Berlina 4 posti : 530kg
Cabriolet : 515kg
Panoramica : 585kg
---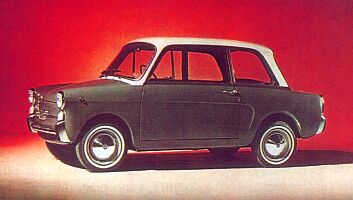 Back to the main Autobianchi page



---
Copyright © 2000 to 2008 CarsfromItaly