Alfa Romeo Giulia TZ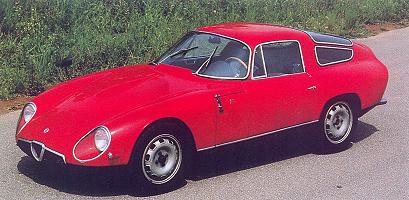 Design started in 1959, but other commitments meant a slow gestation, with the first prototype chassis being delivered from Alfa Romeo to Zagato at the beginning of 1961, and the first car taking to the test track in October of that year. This car had a removeable hard-top/roof section with a fixed rear screen, and a nose similar to the Giulietta SZ, whilst the engine and most of the mechanicals were taken from the Giulia, with significant exceptions including the all-new independent rear suspension and disc brakes on all wheels.
There followed extensive development, before the final car appeared in 1963, both aerodynamic and mechanical. The former involved adopting a fixed roof, round headlights, a completely new grille arrangement, a longer, lower nose and a totally revised rear end, whilst the mechanical development concentrated on the rear suspension design.
Production (split between Ambrosini for the chassis, Delta for the mechanicals and Zagato for the body) began in 1963, and the new model debuted in motorsport at Monza in that October, an event which it won easily. The following year saw the TZ1 take class victories in many major events, including Sebring 12 hours, Le Mans, Nurburgring 1000km, Targa Florio, Coupe des Alpes (1st overall) and more. By this time the engine was producing around 160bhp, development being done by Conrero.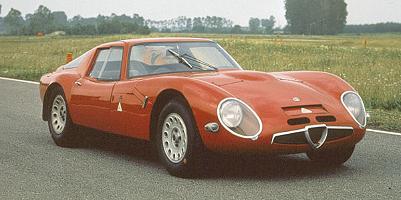 It is also worth noting that in 1963/4 two or three TZ1's were built with a fibreglass reinforced plastic body (by Balzaretti Modigliani of Milan), visually identical to the normal aluminium unit, but much lighter.
1964 also saw the release of the new TZ2, a further development featuring a twin-plug engine (with 170bhp), which was also reworked to lower the entire car. The chassis was modified, a dry sump unit enabled the engine to be mounted lower and a new body was designed by Zagato, made completely from fibreglass reinforced plastic. The roof was lowered, the three rear windows became a single plexiglass unit and smaller wheels were used.
The TZ2 debuted in mid-1965 and went on to compete alongside the TZ1 in that year, both cars achieving many successes. At the end of that year the official programme was shelved (to make way for the GTA cars) although the TZ's continued to compete in private hands. A total of 112 TZ1's and 12 TZ2's were built.
---
Technical Details

Driveline
longitudinal engine at front with rear wheel drive
Engine
1570cc (78x82mm) dohc 4 cylinder with 112bhp @ 6,500rpm
(TZ1 in competition trim : 160bhp)
TZ2 : twin-plug unti with 170bhp @ 7,000rpm
Suspension
front : double wishbone with coil springs and telescopic dampers plus anti-roll bar
rear : independent with coil springs and telescopic dampers and anti-roll bar
wheelbase : 2200mm
track (front/rear) : 1300mm/1300-1330mm (depending on trim)
Brakes
front : discs
rear : discs
dual circuit with assistance
Gearbox
5 speed manual
Kerb weight
TZ1 : 660kg
TZ2 : 620kg
---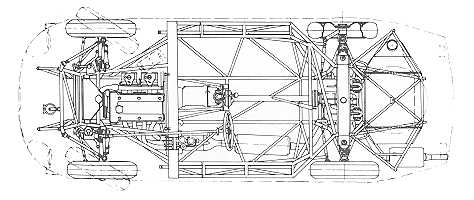 ---
Identification
The TZ was given the official designation 105.11, the 1570cc engine being the AR00511.
---

For books on Alfa Romeo see our Online Bookstore
Wallpapers/Desktop Backgrounds of the Alfa Romeo TZ1 available to download.
There is also a list of all our picture galleries (including museums, motorshows and various events).
---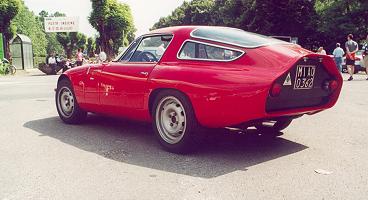 Use the buttons at the top to navigate further, or
---
Copyright © 2000 to 2008 CarsfromItaly