Alfa Romeo Berlina
This covers the 1750 and 2000 Berlinas.
There are separate pages for the Bertone Coupes and the Spider.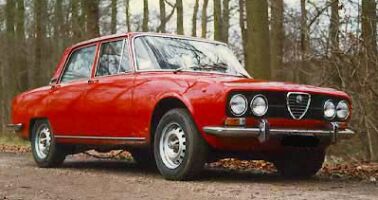 Launched in January 1968 to replace the Giulia, the new car was known simply as the Berlina, or 1750. Designed by Bertone, it was a 'cleaned-up' Berlina, although to some this was not positive... The wheelbase was extended and the engine bored and stroked to 1779cc in which form it produced 118bhp with two twin sidedraught carburettors. For the US market SPICA fuel injection was fitted. A five speed gearbox, and an optional 3-speed ZF unit, was fitted to mechanicals only slightly changed from those of the Giulia. These changes included a rear anti-roll bar, the use of an alternator instead of a dynamo and a braking force limiter for the rear wheels.
In the following year a facelift was carried out which included modified brakes (dual circuit system fitted), headlights (now with iodine bulbs), pedals and steering wheel.
Lake Garda in 1971 saw the release of the new 2000. This used a once more enlarged version of the basic Giulietta engine, now displacing 1962cc and with 132bhp. As in the 1750, in Europe this was fitted with twin carburettors, whilst the US got a Spica fuel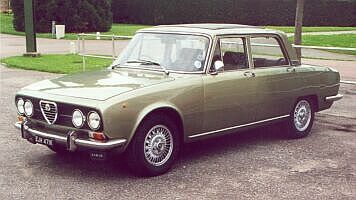 injection system. From outside, the easiest feature to distinguish the 2000 from the 1750 was the wider Alfa shield in the front grille, whilst inside the instruments were revised. The Coupe and Spider also received the new engine. The 1750 continued in production alongside the 2000, the latter receivng an automatic gearbox as an option (which not many took from the production run of about 250 cars).
Production of the 1750 ceased in 1972. By that time approximately 101,880 examples had been built. The 2000 continued on until 1977 (including minor changes in 1975 amongst which the engine lost 3bhp) with a total production run of 89,840 cars.
---
Technical Details

Driveline
longitudinal engine at front with rear wheel drive
Engines
1779cc (80x88.5mm) dohc four cylinder in line with 118bhp @ 5,000rpm
1962cc (84x88.5mm) dohc four cylinder in line with 132bhp @ 5,500rpm
Suspension
front : independent with telescopic dampers and coil springs plus anti-roll bar
rear : live axle with telescopic dampers and coil springs, two trailing arms plus upper A-frame
wheelbase : 2570mm
track (front/rear) : 1324mm/1274mm
Brakes
front : discs
rear : discs
handbrake operating on the rear via cable
vacuum assistance
Gearbox
5 speed manual
3 speed automatic
hydraulic clutch
Steering
Worm and roller (recirculating ball optional)
Kerb weight
1750 (US spec) : 1108kg
2000 (US spec) : 1175kg
---
Performance

| | | | |
| --- | --- | --- | --- |
| model | max speed | 0-60mph | standing ¼ mile |
| 1750 | 187 km/h | 10.8 sec | 17.8 sec |
| 2000 | 189 km/h | 9.7 sec | |
---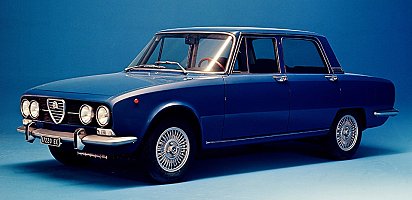 Identification
The 1750 berlina had the model number 105.48 (105.49 with rhd, 105.71 injected model for the US).
The 2000 berlina initially had the model number 105.12 (105.15 with rhd, 115.00 injected model for the US) until revised in 1975 when it became the 115.36.
The 1779cc engines were the AR00548 (118bhp) and the 1962cc engines were AR00512 (132bhp) and AR00515 (129bhp).
---

For books on Alfa Romeo see our Online Bookstore
There is also a list of all our picture galleries (including museums, motorshows and various events).
Wallpapers/Desktop Backgrounds of numerous Alfa Romeo's also available to download.
---
Links
The Berlina register website
---
1750 & 2000 Berlina comment form
---
Your Comments
I think the styling works well. It is simple and clean looking. The front end of the 2000 looks excellent with the wide alfa grill and quad lamps. where can I get one in good condition in the UK!
In my country uruguay theres lots of this 1750 alfas.the interior is beautiful. (Daniel, Uruguay)
My 1750 was produced in September, 1971; I took delivery in San Francisco in Jan., '72. It was a pleasure to own; after a quarter of a million miles and still strong, it became the source of enjoyment for an enthusiast. It was the best automobile I've ever owned. (Charlie, USA)
I own a 2000 berlina 1975 model and its a lovely car to drive.It run's and perform's like a race car as I drive it everyday. Its painted in alfa racing red and it is in fully original condition including the interior.(Mr K, Malaysia)
---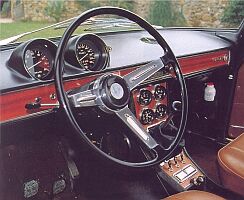 Use the buttons at the top to navigate further, or
or E-mail Cars from Italy with questions, comments, suggestions, criticisms or pictures of your car.


---
Copyright © 2000 to 2008 CarsfromItaly